Combineddirection
The Alberding mining machine positioning system is designed for the precise position and direction determination of giant bucket-wheel excavators used in open pit coal mines.
The excavator machine is equipped with high-quality GNSS receivers connected to three GNSS antennas forming a triangle. A nearby GNSS reference station is operated to provide RTK corrections to the system on the machine. The position and direction (pitch, roll and yaw) of the bucket wheel are determined very accurately in real time by the Alberding Combineddirection software. This information is directly fed into the machine control unit.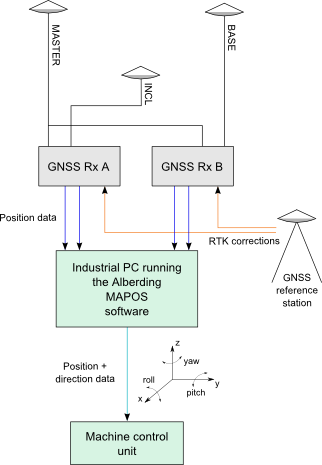 The fault-tolerant architecture ensures that no single-point failures will result in inaccurate machine positioning. To reduce costs it is possible to use only two GNSS antennas and a tilt sensor in addition to form the triangle.
The current status of the positioning system can be monitored via the web interface of the Combineddirection software. All important system parameters (e.g. receiver online status, number of satellites, position quality indicator, direction angles) are monitored automatically and visual alerts are generated if any of these parameters exceed pre-set limits.
The Alberding Combineddirection software supports a wide variety of GNSS receiver types, real-time data formats and interfaces.
Further information:
Some selected features:

Multi-antenna GNSS machine control system.
Precise position and direction determination in real time.
Modular architecture – customisable setup.
Status monitoring via web interface.
Automatic warnings.
Support of numerous data formats.