DataConv
Real-time
Does your GNSS receiver not support real-time correction data output in the desired RTCM or Trimble CMR formats? With the help of the Alberding DataConv tool, you can easily overcome this limitation. Connect your receiver to a computer running DataConv and access its raw GNSS data stream. Convert the native binary input data to any of RTCM 2.x, 3.x, CMR or CMR+ formats and transmit the corrections to your clients in real time through Ntrip or a terrestrial radio link. DataConv can also convert between international standard formats (e.g., from RTCM 3.x to CMR or vice versa) so that you can feed any kind of rover receiver with the required correction data.
Alberding DataConv also supports SBAS DGPS data conversion from RTCA to RTCM format ("SBAS VRS"). This gives legacy GPS receivers without WAAS or EGNOS option the chance to use SBAS corrections. With the retransmission of SBAS DGPS data via additional data links like GSM, radio broadcast or Internet you can extend the coverage area of SBAS corrections in the field.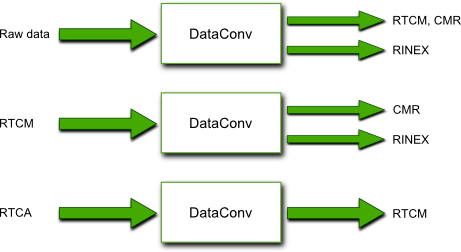 Post processing
Typical GNSS post processing software packages only support a limited number of receiver proprietary data formats. However most of them can import RINEX (Receiver Independent Exchange Format) files. Use the Alberding DataConv tool to import and convert archived GNSS measurement data from native binary formats to standard RINEX v.2 or v.3 formats. The software tool also allows you to convert archived datasets between different RINEX versions. As a special feature it is possible to output a converted data stream from a file to conduct pseudo real-time tests.
Some selected features:

Support of raw data input in Trimble, Topcon, Javad, Ashtech, Leica, NovAtel, Septentrio, Hemisphere GNSS, Turborogue, SIRF, u-blox, NVS, etc. proprietary formats.
Support of GPS, GLONASS, Galileo, BeiDou and QZSS observables.
Real-time correction data output in RTCM 2.x, 3.x (including MSM) and Trimble CMR or CMR+ formats.
Generation of RINEX v.2 and RINEX v.3 format output files.
Conversion of SBAS DGNSS corrections into RTCM.
Support of data communication via serial ports, TCP and UDP ports, Ntrip and NtripS.
Import data from log files.
Available for Linux and Windows platforms.
Customer specific adaptations are possible.