Alberding GNSS Status Software
The overall quality of a GNSS ground infrastructure and the positioning services built upon it depends on the quality of each of its hardware and software components. System integrity monitoring and quality control play an important role in making a GNSS service successful.
The Alberding GNSS Status software is a central data management, processing and monitoring software suite designed for performance monitoring of GNSS reference networks and positioning services. The software has a modular architecture and a scalable design. It is possible to start with a single-point monitoring system and expand the monitoring area or the complexity of the system later, by adding more GNSS receivers or other sensors. Data management, processing, analysis, visualisation, alarming and reporting functionalities are carried out by separate modules that are easy to add to existing systems. Due to the modular nature of the monitoring system, it is largely customisable to special user requirements.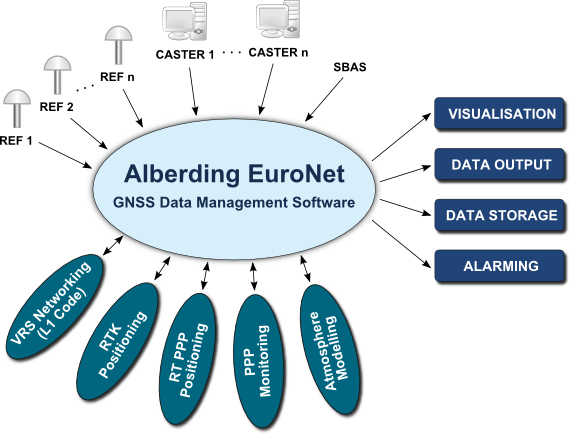 Alberding EuroNet is the core GNSS data management and processing engine behind the GNSS Status software. EuroNet collects real-time data from GNSS reference stations, Ntrip Casters and other data sources via different communication protocols (e.g. TCP/IP, UDP, Ntrip). It converts receiver binary formats to international standard formats (e.g. RTCM 2.x, RTCM 3.x, CMR/CMR+, RTCA, RINEX 2.x, RINEX 3.x). The observation data is used internally or output to other applications for further processing.
Depending on the user application, EuroNet calls additional, external software modules responsible for data processing, modelling and statistical computations. The Alberding GNSS Status software has a variety of external modules, e.g. DGNSS/RTK positioning, real-time or post-processed PPP positioning, L1 VRS networking and real-time PPP-based troposphere modelling. Customer provided executables can also be integrated into the monitoring system.
Application areas:
DGNSS/RTK/PPP positioning service performance monitoring

Data availability and latency
Data completeness
Multipath, cycle slips, SNR, number of satellites, etc.
Positioning accuracy
Convergence time

External sensor data monitoring

Meteorological observations
Tilt sensor measurements
Geotechnical sensor readings

GNSS reference station coordinate stability monitoring
Real-time monitoring of severe weather events

Tropospheric Zenith Total Delay (ZTD)
Integrated Water Vapour (IWV)
The complete system can be configured and monitored through a web interface in a convenient way. Processing results are visualised on colour-coded status tables, time series and scatter plots, bar graphs, histograms, skyplots, interactive maps and statistical tables. The web-based graphical user interface enables system operators to analyse data availability, positioning accuracy (N, E, H and 3D), data age and a lot more. The GNSS Status software can export scheduled and on-demand performance reports in PDF and CSV formats.
User configurable alarming functions guarantee that service operators and administrators will be automatically notified if data outages, system downtimes, performance degradations or other significant events are detected. The web interface uses visual alerts – a traffic light system. In addition, email and SMS warnings are released automatically should the monitored parameters exceed pre-defined threshold values. All system errors and events are recorded in an event log.
The data logging module archives measurement data and processing results at user defined intervals. System configuration changes are also logged in time-tagged configuration files so that it is easy to recover a working system after an accidental configuration mistake.
Some selected features:

Modular and scalable system architecture.
Support of various communication protocols (e.g. TCP/IP, UDP, Ntrip, serial port).
Support of numerous data formats (e.g. RTCM 2.x, RTCM 3.x, CMR/CMR+, RTCA, NMEA, receiver binary formats, RINEX 2.x, RINEX 3.x).
Dedicated external algorithms for each processing task.
Web-based graphical user interface.
Automatic detection of status changes and system failures.
Automatic email and SMS alerts.
Export performance reports in PDF and CSV formats.
Low system requirements.
Hardware manufacturer independent solution.
Flexible software design allowing for user specific adaptations.
Available as a software licence or service operated by Alberding GmbH.